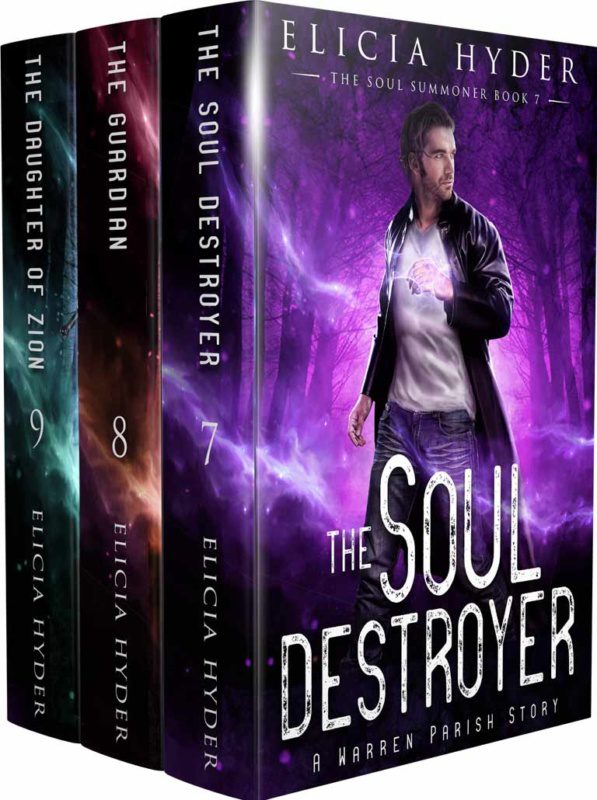 THE SOUL DESTROYER (Book 7)
THE GUARDIAN (Book 8)
THE DAUGHTER OF ZION (BOOK 9)
About the Book
THE SOUL DESTROYER (Book 7)
Warren, Nathan, Sloan and the rest of the Soul Summoner crew are back in book 7 of the Soul Summoner series.
Warren Parish is literally about to go to hell and back to protect his daughter, but first he must save her from an even closer danger—Heaven.
The Council of angels has decreed Iliana must be brought to Eden to be made a seraph—an angel frozen as a child. And though it means Warren can finally be with her, she will never grow up. She will never access her power. And she will never have the life he sacrificed everything to give her.
Time is running out. He has until her first birthday to bring her to Eden. If not, the guardians will be sent for her, and he will be stripped of his birthright as the Archangel and lose his daughter forever.
THE GUARDIAN (Book 8)
The mission was supposed to be simple:
Get in.
Save the girl.
Get the hell out.
But Warren Parish knows nothing is simple with demons involved, and storming the gates of Hell will be no exception.
An innocent woman is trapped in Nulterra, but this journey is so much more than a rescue mission. Along with his new enchanted sword capable of killing angels, it seems the demons have forged another powerful object…
A magical stone that can grant him what he wants most in all three realms—a life on Earth with his daughter.
THE DAUGHTER OF ZION (BOOK 9)
It all ends where it first began…
Life as Warren Parish knew it fell apart during his short time away from Earth. Now the most vile demon of all time is assembling his army to destroy mankind.
The final showdown has begun.
Other Books in "The Soul Summoner Boxsets"
Disclosure of Material Connection: Some of the links in the page above are "affiliate links." This means if you click on the link and purchase the item, I will receive an affiliate commission. I am disclosing this in accordance with the Federal Trade Commission's
16 CFR, Part 255
: "Guides Concerning the Use of Endorsements and Testimonials in Advertising."