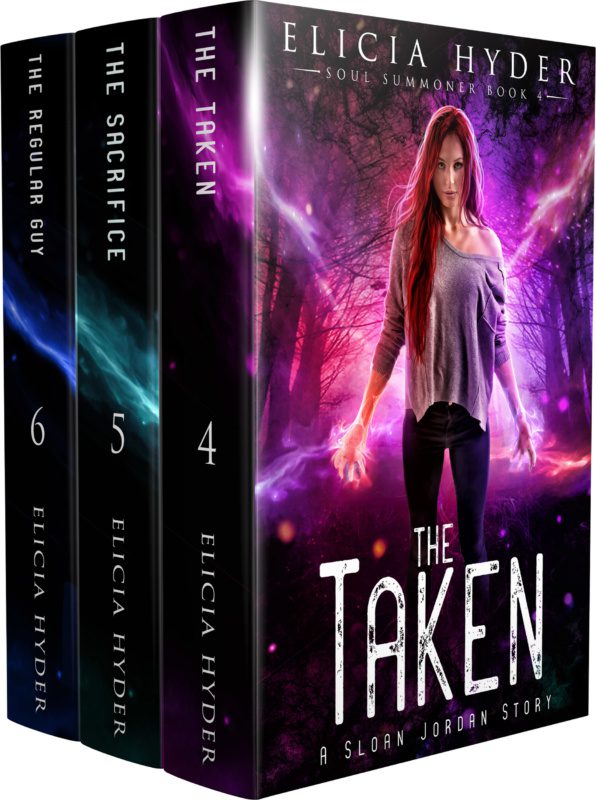 An ordinary woman with an extraordinary gift is out to stop evil with two irresistible men. One of them would die for her; the other would kill to keep her safe.
**Find out why The Soul Summoner series has been a #1 bestseller in Paranormal Suspense and has been downloaded over a half million times, earning thousands of 5-Star ratings.** 
About the Book
THE TAKEN – BOOK 4 Sloan Jordan's days are numbered. She has 139 to be exact. In that time, there's a lot to do: a missing friend to find, a wedding to plan, and her own murder plot to overthrow. When a lead takes the crew back to Chicago, the truth they uncover is more shocking than they ever imagined—to fight the enemies of the present, they must first face the demons from the past.
THE SACRIFICE – BOOK 5 "Hello, Praea."
There's only one being on Earth who calls Sloan Jordan by that name—her biological mother, a demon named Kasyade. So why did she answer Sloan's best friend's phone? When Sloan reaches Adrianne Marx's apartment to investigate, all she finds is a half-written list of things to do before Sloan's wedding:
1. Order booze for the reception.
 2. Send the final guest count to the caterer.
 3. Register for gifts.
 4. Don't forget to—
That's where the to-do list ended. Mid-sentence with a scrawled line like Adrianne had been dragged away from the task. If Kasyade was involved in the abduction, Adrianne probably had been.
The reason? Ransom.
The price? Sloan's unborn daughter, the most powerful angel in all of history.
But hell can't rival the fury of an angry mother protecting her child, and until the baby is born, her incredible power is Sloan's to wield. Now the prey becomes the predator as Sloan seeks to put an end to Kasyade forever.
THE REGULAR GUY: A NATHAN MCNAMARA STORY They say the best things come to those who wait, and no one hopes that's true more than Special Operations Commander, Nathan McNamara.
For over a year, he's put his life, his career, and his mother's hopes for more grandchildren on hold to dive headfirst into a world he never knew existed. A world full of angels, demons, and enough sexual frustration to crack the Pope.
But all that is supposed to be behind him, and his future looks bright and full of possibilities. That is, until a familiar chill ripples the atmosphere–and a supernatural thunder rumbles over the mountains.
Other Books in "The Soul Summoner Boxsets"
Disclosure of Material Connection: Some of the links in the page above are "affiliate links." This means if you click on the link and purchase the item, I will receive an affiliate commission. I am disclosing this in accordance with the Federal Trade Commission's
16 CFR, Part 255
: "Guides Concerning the Use of Endorsements and Testimonials in Advertising."