Ever since The Bed She Made was released for publication, I've gotten a LOT of questions. The most prominent question has been, "Is this about you?"
Well…
Yes. And no.
***SPOILERS AHEAD***
The Bed She Made is probably the closest thing I will ever write to an autobiographical novel without it being autobiographical at all. If you know much about my personal history, you will easily be able to spot the similarities between the protagonist and myself. Let's go over a few:
Just like the story's protagonist, Journey, I was a wild child in high school. My hair was short, always colorful, and sometimes shaved. I wore tie-dye and combat boots and opted for a skin-tight leopard print for my high school prom. (Not that I do any of those things anymore, *ahem.)
My best friend was the high school quarterback, and we went our separate ways because he wanted to be a cop and I was into the drug/party scene. This is our picture together at his graduation (aren't we adorable?):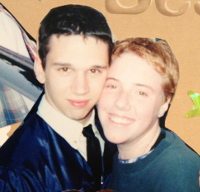 I spent nine months in rehab when I was eighteen as opposed to Journey's 30-day program.
My best girlfriend has really been 6'1 since middle school. She's still my BFF after all these many years.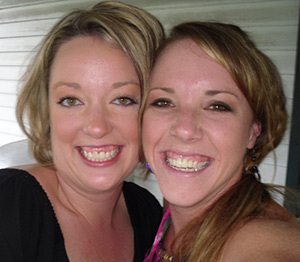 My first husband died when he was 25 years old, but he was not a police officer. He was killed TEXTING AND DRIVING. Please, please, please don't text and drive!
Steven's character is sort of a hodge-podge of all the dysfunctional boyfriends I had when I was young.
I still live in Nashville, TN. My sister is here as well.
My father never shot and killed any of my old boyfriends, though I'm sure he considered it.
I married that high school quarterback in 2012, and we are living happily ever after. He's a cop and he's still in the military.

The biggest similarity is the relationship between Journey and her parents. Like Journey's parents, my mom and dad are 'staunch Republicans, successful small business owners, and devout Southern Baptists'. We had a very strained relationship when I was younger. Thankfully, our relationship has been restored and my parents are now my closest allies.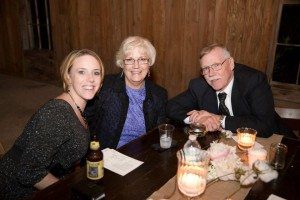 The story found in Chapter 7 "Daddy Issues" is very much a true story. I had been in trouble with the police and I was forced to return home with my parents. My dad "made my bed" that night.
The Bed She Made is close enough to my real life that it was very painful but therapeutic to write. Most of it, however, is straight-up fiction and the majority of the characters were birthed out my crazy imagination.
Oh… and yes, I have a phoenix tattoo, but I didn't draw it myself. I have the artistic ability of a giraffe with a set of Crayola markers: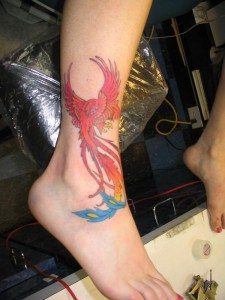 If you haven't already done so, please consider reviewing the book on Amazon. It helps me get advertising and it helps others find this story.
Review it now: https://www.amazon.com/review/create-review?ie=UTF8&asin=B00X1UHR48