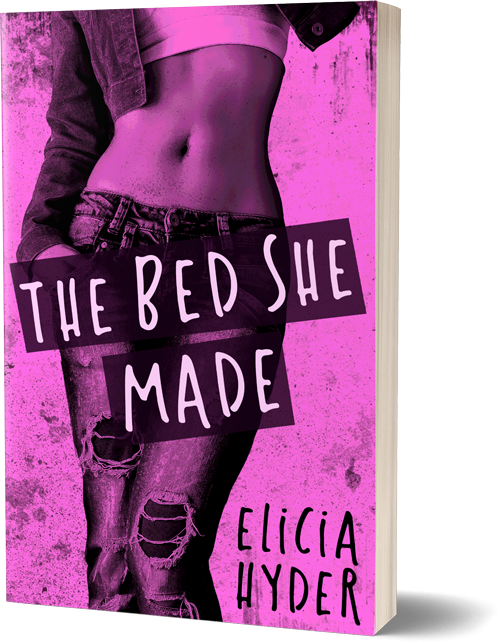 Journey Durant's father warned her, "Someday you'll have to lie in the bed you've made." But she didn't believe him... until now.
About the Book
Reformed bad girl Journey Durant has just received the news that her ex-boyfriend is about to be released from prison.  She can't shake the feeling that her troubled past is coming home with him.  The town of Emerson, Georgia has forgiven and forgotten her involvement in the most publicized tragedy in the town's history but only because of her three year absence, her prominent Southern Baptist family, and her marriage to the closest thing her small town has to a superhero.
Bullets and emotions fly, leaving Journey to realize that no matter what penance she has done for her past, the mistakes of her youth still carry unpaid penalties, and her father's words reverberate in her mind: Someday you'll have to lie in the bed you've made.
The Bed She Made is the story of a prodigal daughter who is forced to confront the consequences from her reckless youth. Despite its saucy cover and heart-wrenching love triangle between the bad boy and the good guy, it is free from erotica and overly sexual situations. The book does explore some heavy topics such as drug abuse and violence, but the overall message is one of forgiveness, redemption, and second chances.
It is a feel-good romance that will take you from laughter to tears and back again.
The Bed She Made eBook could be appropriately described as:
Contemporary Romance
Police Romance
Military Romance
Romantic Suspense
Women's Fiction
Bad Boy Romance
Other Books in "The Journey Durant Novels"
Disclosure of Material Connection: Some of the links in the page above are "affiliate links." This means if you click on the link and purchase the item, I will receive an affiliate commission. I am disclosing this in accordance with the Federal Trade Commission's
16 CFR, Part 255
: "Guides Concerning the Use of Endorsements and Testimonials in Advertising."