"Even if derby isn't your thing….you will love this book." 

"I am so loving this story. More of a suspense, thriller, paranormal kind of fiction fan but this story hooked me in and I'm now a big roller derby fan!"

"Read this in one day, because whenever I have an Elicia Hyder book in my hands, nothing else matters! It was sooooo good. The first 2 chapters had me laughing aloud! Couldn't put it down after that. I would love to think I have a tiny bit of Grace in me!! Thank you, Elicia."

"I just finished Britches get Stitches. I Loved it!! I laughed and cried and laughed again!"

"I did not want to put this book down!!!! It was fabulous, I loved it even more than The first book Lights out Lucy."

"I loved this book for the emotions and the great storyline and can't wait to read the next. These women rock!"

"This one had me hooked within the first few sentences. If my Kindle hadn't shut down, I would have read it in a few hours! Britches Get Stitches had me laughing, crying, laughing again and cheering on Grace."

"This series just keeps getting better and funnier. If you liked the first one, you will love this one."

Be brave. Be strong. Be badass.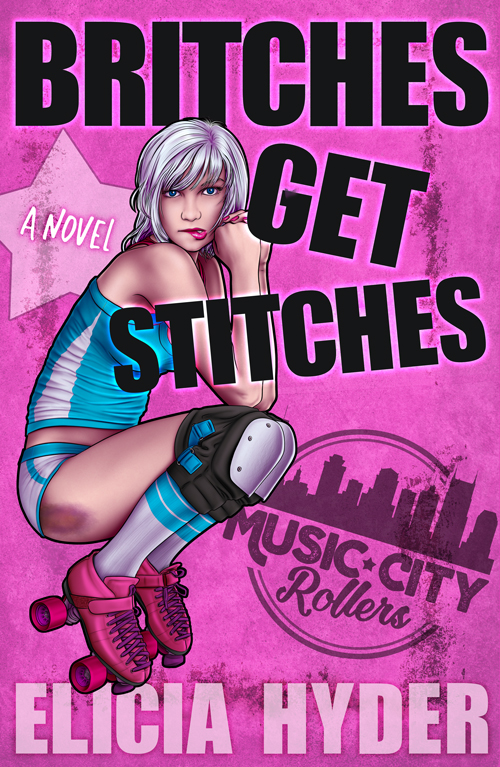 After a two-year struggle to conceive ends with her husband getting another woman pregnant, Grace "Britches Get Stitches" Evans is taking out her frustrations on the roller derby track. Full-contact violence and absolutely no cheating men? Best divorce-support group ever.
With the help of her teammates, Grace is reclaiming one piece of her broken heart at a time—starting with the family dog, which she lost in the divorce. When the dognapping ends with a call to the police, the best revenge shows up at her door in the form of Officer Jason Bradley. He's hot. He loves animals. And he's her ex-husband's very best friend.
Then her ex does the unimaginable, threatening everything she has left as well as the new life she's started to build. Only Grace isn't the woman he kicked to the curb anymore. And just like in derby, though she might get knocked off the track and blocked behind unbeatable odds—she'll keep pushing forward.