This page is constantly updated. Check back for more dates and cities!
2019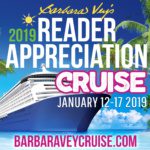 January 12-17, 2019 – Barbara Vey Reader Cruise – Sailing from Ft. Lauderdale
Barbara Vey Readers are headed to the Caribbean! Join over 30 authors aboard the Royal Caribbean ship on January 12, 2019 for 5 nights/6 days of fun, food, books, and reader/author events. Only 300 tickets are available to this inauguration cruise, so book early.
April 26-April 28 Barbara Vey's Reader Appreciation Luncheon 2019 – Milwaukee, WI
Spend an ENTIRE WEEKEND with me and 60 of the greatest authors in the world! Attending authors include yours truly, Heather Graham, Tonya Kappes, Violet Howe, Ann Marie Walker, Eileen Dreyer and MANY MORE! Keynote Speaker: Meg Tilly