This page is constantly updated. Check back for more dates and cities!
2018
February 22-25th, 2018 – Coastal Magic – Daytona Beach, FL – Join me, Christine Feehan, Colleen Gleason, Elle James, Karen Rose, Damon Suede, and many more authors on the BEACH for this fun-filled weekend of books and magic!
---
April 27, 28, 29th 2018 – Barbara Vey's Reader Appreciation Luncheon 2018 – Milwaukee, WI
Spend an ENTIRE WEEKEND with me and 60 of the greatest authors in the world! Attending authors include yours truly, Jennifer L. Armentrout, Heather Graham, J. Kenner, Eloisa James, Josie Brown, Damon Suede, Sonali Dev, Tiffany Snow, Marina Adair and MANY MORE! Keynote Speaker: Susan Wiggs

---
May 24, 2018 – Lorelei's Lit Lair Presents: Let's Talk Romance! – Orlando, FL
Join me as I sit down with Lorelei's Lit Lair to chat about books at the Alafaya Library in Orlando!
---
July 7, 2018 – Nashville Rollergirls Doubleheader at The Fairgrounds Nashville Sports Arena – Nashville, TN
Join me at the Nashville Rollergirls doubleheader where I'll be signing autographs and hosting some giveaways. You don't want to miss this event!
---
August 25, 2018 – Readers at the Roller Derby – with Bay Area Derby at The Palace of the Fine Arts – San Francisco, CA
Join me and some of my friends for a night of roller derby and books! Attending authors include Elicia Hyder, Marina Adair, Elisabeth Barrett, Josie Brown, and Deborah Coonts!
---
November 8, 2018 – Sam's Town Casino – Las Vegas, NV
More details TBA
2019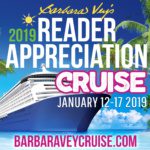 January 12-17, 2019 – Barbara Vey Reader Cruise – Sailing from Ft. Lauderdale
Barbara Vey Readers are headed to the Caribbean! Join over 30 authors aboard the Royal Caribbean ship on January 12, 2019 for 5 nights/6 days of fun, food, books, and reader/author events. Only 300 tickets are available to this inauguration cruise, so book early.